Jean-Pierre Tanous
L'Observatoire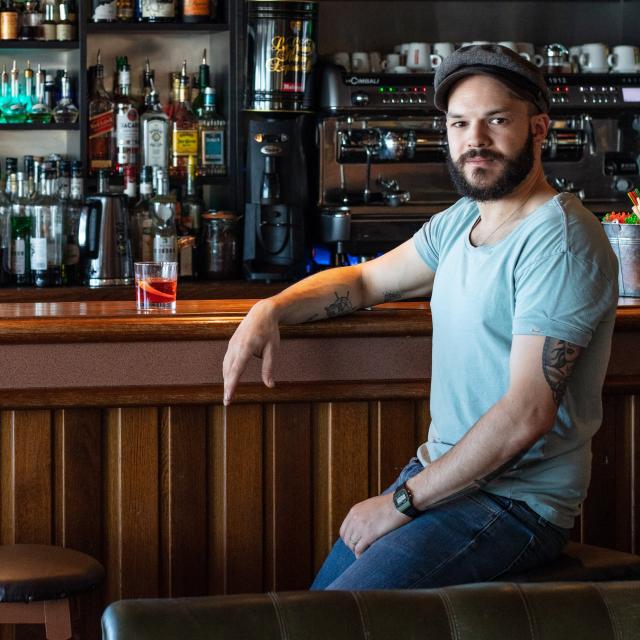 "At over 1,200 m above sea level, you'll feel as if you're touching a little piece of paradise…"
L'Observatoire
The restaurant

A restaurant stands proudly at the top of Le Salève. It's the L'Observatoire. Breath-taking views of the Geneva basin, the Jura mountains and, for the most observant, a tiny peek of Mont Blanc can be enjoyed from the restaurant's terrace. This is a relaxing, timeless place.
On entering the L'Observatoire, you're also entering the world of Jean-Pierre Tanous and his team.
The vintage décor and homely, cosy atmosphere with armchairs and sofas await! The team at the L'Observatoire will look after your every comfort, so feel free to order a cocktail and settle in. It will be home-made! In fact, everything is home-made here. Yes – even the petit four which comes with the coffee.
The L'Observatoire restaurant is committed to knowing everything about the products it offers so that quality is always ensured.
The menu changes according to the chef's preferences. He takes his inspiration from many places, so knows how to surprise and delight you! It's time to take a seat as you must be starting to feel hungry?
Jean-Pierre Tanous
The chef
The son of a Lebanese father and a mixed-race mother, he was born in the Ivory Coast in 1985.
He came to the Haute-Savoie with his parents in 1991. He grew up and went to school on the banks of Lake Geneva.
To begin with, he studied for a general education and passed his baccalaureate. He then joined the Vatel Institute in Lyon to study for a Master course in international hotel management. During his final year, Jean-Pierre had the opportunity to complete his Master in the United States. He studied management training in California and ended up spending 5 years there!
A foreign country means a different culture and it was while living in the United States that Jean-Pierre realised that he did not want to stay there. He therefore returned to the Haute-Savoie and worked in Geneva.
His vision for the restaurant business differed from the establishments in which he worked. He found it all too hierarchical and had difficulty settling, working in several different restaurants before he finally found something where he felt really comfortable. He needed someone who could teach him as much as possible so that he would be able to start his own venture. "He told me you're going to have a hard time but you're going to learn a lot." He spent 18 intensive months rebuilding the entire catering unit.
"After a while I was no longer afraid, I felt able to go for it." He resigned from his job and started searching for a restaurant. Determined, he tried his luck with the L'Observatoire in 2013. A restaurant in disarray on the summit of Le Salève! Jean-Pierre slowly managed to build his dream, with the support of his wife.
This was always done in the spirit of moving forward 'step by step' and making sure things were under control.
He now supports and trains his own team. "Everything must be mastered down to the last detail" whether that's knowledge about the coffee or the creation of the restaurant's dishes.


It doesn't matter how long it takes. What matters is the result! "I wanted to make home-made fries. It took me 4 years to find the best recipe. "
Naturally inquisitive, he's fully committed to mastering new skills. Jean-Pierre is continuously interested in refreshing his knowledge. Once he has mastered something, he has to find something else to stimulate him.
What's his world like? One without limits! Always be ready to challenge yourself, be open to change and get involved. This is the philosophy which his team radiates today.
Jean-Pierre has one aim. That's to succeed in transforming the L'Observatoire into a real institution and to always go beyond his limits!