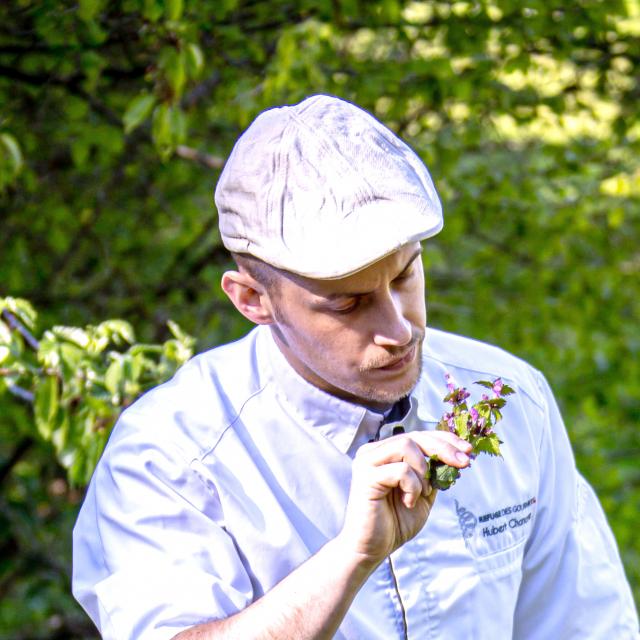 "My cuisine is second nature!"
Le Refuge des Gourmets
The restaurant

The village of Machilly is located at the foot of the Voirons. This delightful village has a small fishing lake surrounded by greenery. It's such an inspiring environment and the perfect location for Le Refuge des Gourmets!
The restaurant has been in existence for 30 years now. It was founded by Jean-Marie Chanove in 1989. Today, it's managed by his son, the chef Hubert Chanove and his wife, Fanny. They are keen to share their gourmet world with you and to introduce you to all the superb ingredients from local producers.
Here at Le Refuge des Gourmets, you can enjoy a gourmet adventure in the Monts de Genève. The restaurant offers you a whole host of new flavours. Savour the creative cuisine largely inspired by the countryside and ingredients from the surrounding region.
Yes! They all grow in the mountains! Chef Hubert gathers them himself when out walking. The herbs complement the local dishes beautifully. They can completely change a dish, enhance the taste, facilitate digestion and act as decoration.
Taking a seat in Le Refuge des Gourmets is like escaping to the lake and mountains. Here, you can savour all the region's freshness and character!
Born close to Lake Geneva in Thonon, the chef grew up in the village of Machilly.
As a child, he would join his father, Jean-Marie Chanove, in the kitchen. Hubert loved discovering new things. His father sought to stimulate this curiosity. He introduced him to colours, aromas and flavours in particular.
Now a father himself, Hubert is doing the same with his daughter. He's passing on to her his love of discovering new things!
As a great fan of cooking, he went directly to the hotel management schools in Bonneville and Thonon to be trained in the art of fine dining.
Once he graduated, he set off to do seasonal work in restaurants across France.
For six years, he honed his culinary skills through the seasons, drawing on his experiences to enhance his own cuisine.
In March 2014, Hubert decided to return to Machilly and help his father in the kitchen. Father and son worked together to make Le Refuge des Gourmets work! He became committed to the family business and approached local producers to supply the restaurant.
"You slowly get caught up in it. You discover local producers' products and then you realise that you don't need to go to big cities because you have everything you need to cook here," he admits.
For Hubert, his cuisine is a way to showcase local producers.

"A cook can produce nothing extraordinary without good quality ingredients."
The Monts de Genève region has a wide range of products, from meat to fish from the lake, to cheese and vegetables…and that's without forgetting the wild herbs!
We mentioned those a little earlier, remember?
The words which best describe Hubert's culinary world is inspired by plants. He handles plants like spices. His driving passion is to use the natural properties of herbs so that they interact perfectly with his dishes. He builds up the taste around them.
It's a simple and uncomplicated style of cuisine!