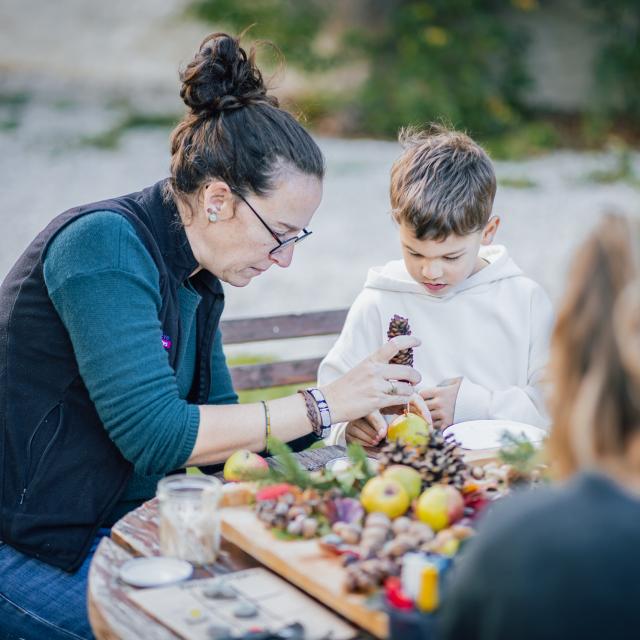 "They lived as children and made many happy."


Aurore was born and bred in Annemasse. As the daughter of two teachers, she was naturally keen to share knowledge and protect nature from a very early age. After studying biological and geological engineering in every corner of France, she began her career with trips to New Caledonia and the Congo. Through these experiences she developed a new vision of the world and a great cultural awareness.
Fond of her mountains, Aurore returned to France and joined the Maison du Salève in 2011 as a nature activity leader. As a local girl with parents deeply involved in the local community, to her it was only natural to become an ambassador for the Salève mountains. Her memories of teenage years and evenings spent with friends under the night sky only increase her affection for this Mountain. Through her profession, she found her calling by experimenting with different fun approaches to conveying her values. In the aim of showcasing and protecting the Salève, Aurore takes visitors exploring the natural and historic heritage of these beautiful mountains. The activities she creates are intended for children and families but also groups of adults. Her activities, exhibitions and conferences help spread awareness on the need to preserve this precious massif.
Aurore Candau
Maison du Salève
Aurore is very mindful of the scenic and cultural diversity that the region has to offer throughout the seasons. This is a source of inspiration for her work as a nature activity leader. For both professional and personal reasons, Aurore aims to make this region more approachable. This is why visitors feel very much at home at the Maison du Salève, where the casual atmosphere is conducive to friendly discussions and a spirit of togetherness. She admits that after an activity, the children's smiles give her a sense of purpose and boost her motivation. A form of reward for a job well done and confirmation that her transmission of knowledge helps visitors make their own fabulous memories of the Salève.