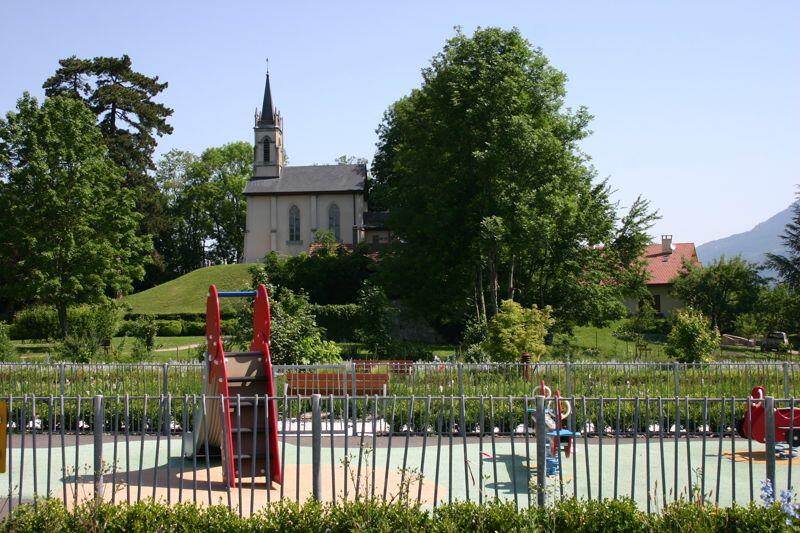 Parc de Haut-Monthoux
Park and garden,
Park
in Vétraz-Monthoux
Located at the top of Monthoux hill, dominating the town, this park, which is a former property of the bishopric, is a place for rest and relaxation. A restored chapel, which is a reminder of its episcopal past, dominates the park and its paths.
In spring 2013, the commune created an educational garden and also set up two hives to look at.
Equipment

Playground
Public toilets

Services
From

January 1, 2023




until

March 31, 2023

From

April 1, 2023




until

September 30, 2023

From

October 1, 2023




until

March 31, 2024
Tuesday

9:00 AM - 5:00 PM

Wednesday

9:00 AM - 5:00 PM

Thursday

9:00 AM - 5:00 PM

Saturday

9:00 AM - 5:00 PM
Monday

8:00 AM - 10:00 PM

Tuesday

8:00 AM - 10:00 PM

Wednesday

8:00 AM - 10:00 PM

Thursday

8:00 AM - 10:00 PM

Friday

8:00 AM - 10:00 PM

Saturday

8:00 AM - 10:00 PM

Sunday

8:00 AM - 10:00 PM
Tuesday

9:00 AM - 5:00 PM

Wednesday

9:00 AM - 5:00 PM

Thursday

9:00 AM - 5:00 PM

Saturday

9:00 AM - 5:00 PM